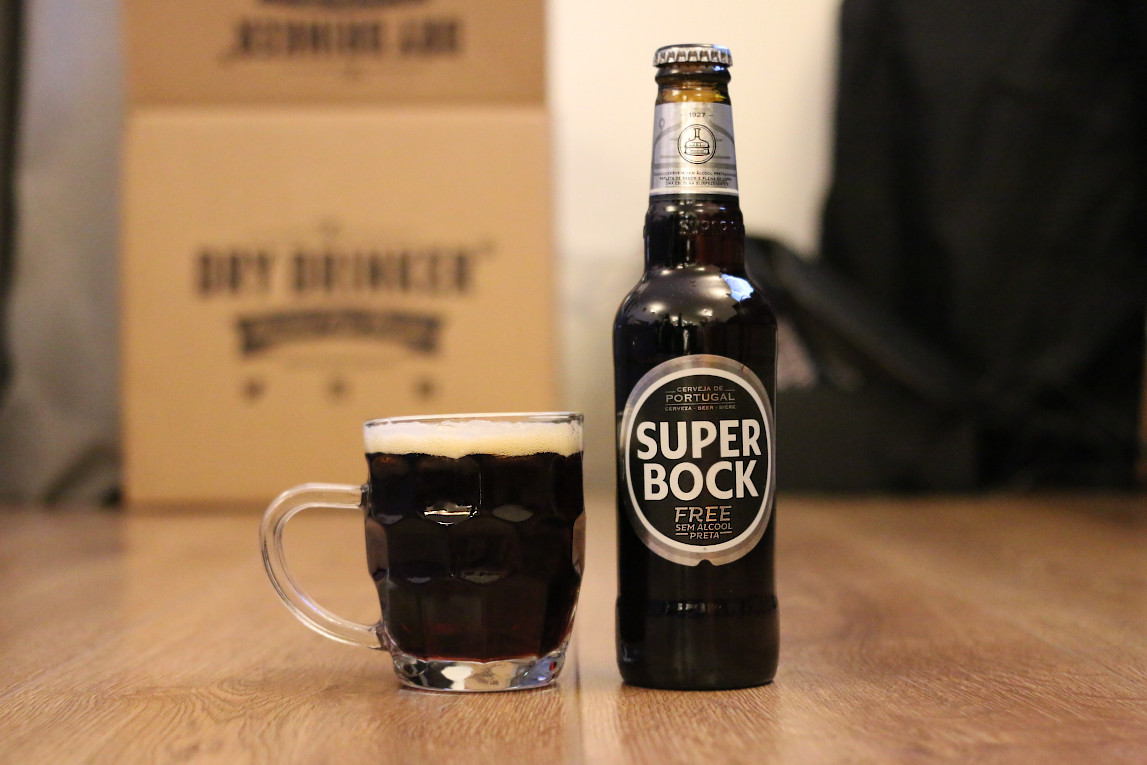 by BeerDrinker
Super Bock is not a household name here in the UK, but they are the largest beverage company in Portugal. Founded in 1890 at the beginning of the industrialisation of brewing in Portugal, they survived nationalisation in the 1970s and remain a privately held company. With their headquarters in Porto, they produce a number of beers that are popular in both their home country and in numerous countries where Portuguese is spoken as either a main or supplemental language. Their beers are the best selling Portuguese beers in the world.
Super Bock produced their first non-alcoholic beers back in 2007. They currently have 3 AF beers under their belt, and the one we'll be reviewing here is their 'Sem Álcool Preta'. 'Sem álcool' translates to 'no alcohol' and 'preta' translates to 'black'. So yes, this is a dark beer, which they refer to on the bottle's label as a stout. However, doing some research on this prior to tasting I found many opinions going against this categorisation, some calling it more like dark lager or altbier. To be honest, all of these sound good to me and have my tastebuds tingling already, so lets get on with the tasting of this mysterious NA beer.
The beer pours a deep mahogany though at low light levels appears black. A decent sized caramel-coloured head forms on pouring and sticks around for a decent amount of time. On the nose we get sweet malt and caramel, but this is rather subdued and definitely light for a supposed stout.
Malt carries on into the taste, with some caramel and molasses sweetness, and a slight touch of bitterness. The body is light and there is a decent level of carbonation there. The beer has a clean finish.
This is certainly not a stout, and I think it would be unfair to compare it to other AF stouts I've tried. However, it doesn't have much depth of flavour to it at all, so comparing it to other non-alcoholic beers it will still come out lower down in the rankings. Thankfully it's not oversweet, so it can quench a thirst and slips down easily. But it's easily forgettable.
Buy Super Bock Sem Álcool Preta
I've seen Super Bock Sem Álcool Preta in some branches of Tesco, but you can buy from the following online beer shops:
Nutritional Information (per 100ml, taken from the side of the bottle)
ABV
0.5%
Energy
26 kcal
Fat
0g
Carbohydrates
5.6g
Sugar
2.7g
Protein
0.3g
Ingredients
Water, Barley Malt, Unmalted Cereals (Maize and Barley), Carbon Dioxide, Colour: E-150c, Hops
Additional Information
Country of Production
Portugal
Brewer
Super Bock Group – https://www.superbockgroup.com/en/
Gluten Free?
No
Vegan Friendly?
No
Super Bock Sem Álcool Preta Review
Summary
Looks like a tempting dark non-alcoholic stout, smells and tastes like a watered down malty drink. Shame.