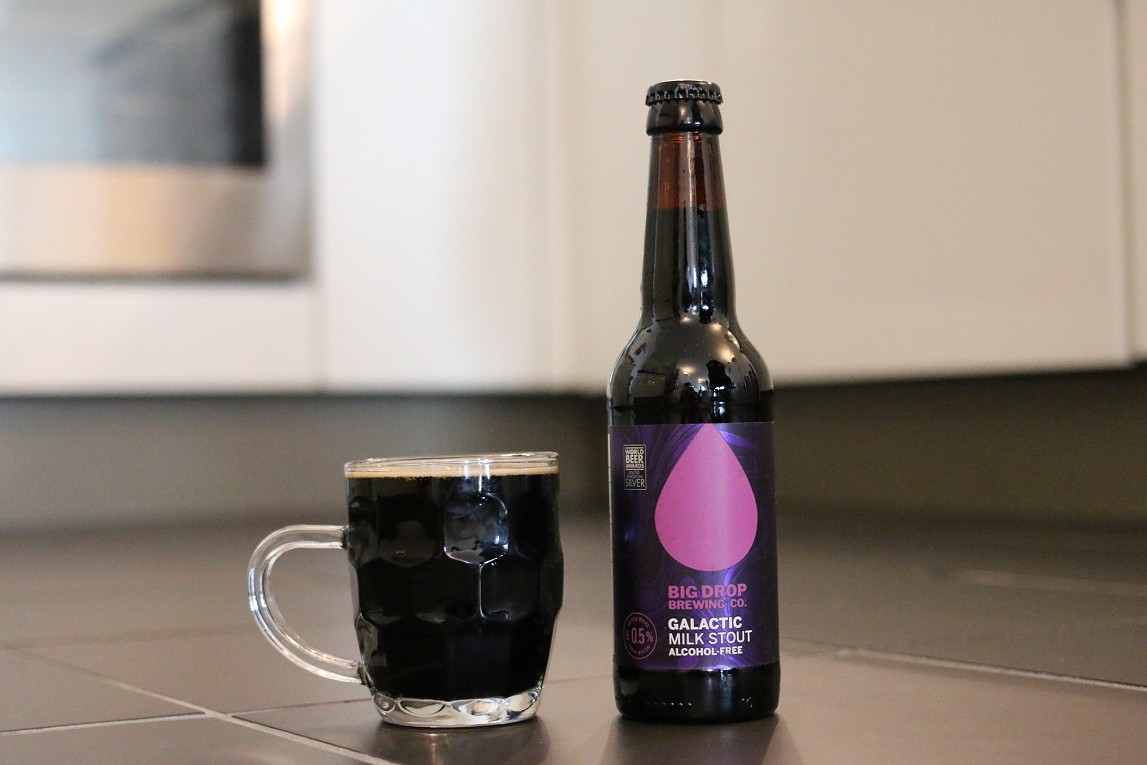 by BeerDrinker
Big Drop Brewing Co are becoming a big player in the UK's alcohol-free beer market. Launched in 2016 after it's co-founder Rob Fink decided to give alcohol the boot, but found the market for alcohol-free beers to be lacking. He teamed up with a childhood friend and a maverick brewer, and produced their first beer in November 2016, an AF milk stout. The beer won a Gold Medal from the International Beer Challenge in 2017, and also won a UK Silver in the World Beer Awards the same year. In this category they were going up against similar stouts but with full strength ABVs. 2019 also saw another slew of awards being thrown at it.
Known either as 'Chocolate Milk Stout' or 'The Stout' over the years, in February 2020 the company performed a rebranding of their entire range, with their milk stout now being christened 'Galactic Milk Stout'. So, is it really 'out of this world'?
Pouring the bottle into a glass we get a dark liquid, resembling a cola in shade. The head is there but brief, fizzling down to nothing after a short while. Stouty roasted coffee and chocolate on the nose, with a hint of malt and berry/cherry in the mix. Very nasally invigorating!
The deep colour and heady aromas build up expectations of bold roasted stout flavours, and to my pleasure they're certainly there. Roasted coffee bitterness, dark malt, a touch of dried fruit, some smoky chocolate and even a hint of tobacco all play on your palate, with a pleasant mouth feel, although it will seem thin compared to a full strength stout. There are two areas that let it down in my opinion however; I'd expect a milk stout to have some sweetness, what with the addition of lactose, but there is little to speak of here, and despite cocoa nibs being on the ingredients list, the chocolate taste is pretty much only in the background.
I'm ashamed to say it took me far too long to work out why Big Drop Brewing Co would want to call their milk stout 'Galactic'. The flavours are deep, but perhaps get a bit muddied as they're all pretty similar. A great example of an alcohol-free stout though!
Buy Big Drop Galactic Milk Stout
Galactic Milk Stout is probably Big Drop's most widely available beer, see in in many Sainsbury's stores. It's also available to buy from the following online retailers:
Nutritional Information (per 100ml, taken from the side of the bottle)
ABV
0.5%
Energy
27.5 kcal
Fat
0.2g
Carbohydrates
5.4g
Sugar
0.1g
Protein
<0.5g
Ingredients
Water, Barley, Lactose (milk), Oats, Rye, Hops, Yeast, Cocoa Nibs
Additional Information
Country of Production
United Kingdom
Brewer
Big Drop Brewing Co. Ltd – https://www.bigdropbrew.com/
Gluten Free?
Yes, less than 20ppm
Vegan Friendly?
No, contains lactose
Big Drop Galactic Non-Alcoholic Milk Stout
Summary
Complex flavours, not just from coffee and chocolate aromas, makes drinking this a thoroughly enjoyable experience – if you're a fan of dark beers.