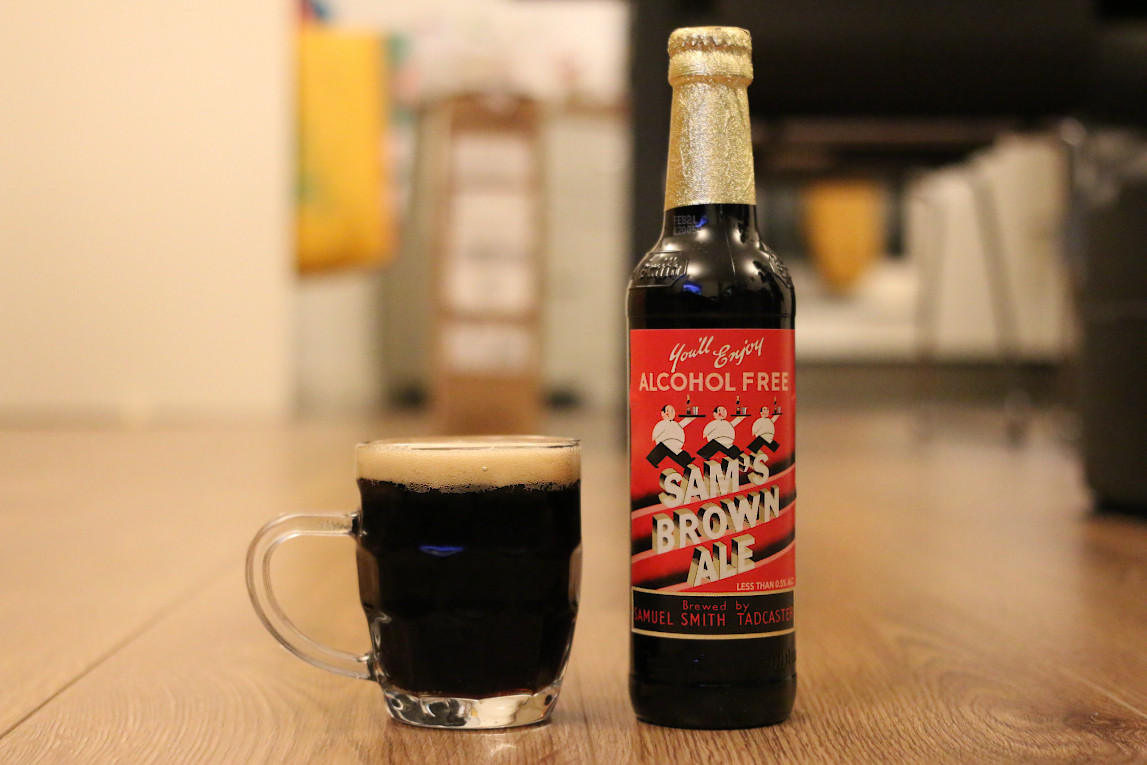 by BeerDrinker
Samuel Smith Old Brewery have a long, distinguished and slightly eccentric history. Founded in 1758 in Tadcaster, Yorkshire it was purchased by the Smith family in 1847, and went through several family members before being reopened as Samuel Smith's Brewery in 1886. Since then their influence has grown, not only in their native Tadcaster, where the company has become a prolific landowner, but also wider in the UK, running a portfolio of up to 200 pubs, all serving their own beers exclusively.
Sam's Brown Ale seems to be a non-alcoholic version of their popular Nut Brown Ale, which is still produced using water from their hard water well originally sunk in 1758. Whilst the brewery has a reputation for some eccentric moves (the current owner recently closed down one of their pubs because the kitchen couldn't serve his favourite dessert on the day he visited) this offering, their first alcohol-free beer, seems to be a simple ale, nothing quirky as often seems to be the case with established breweries launching their first nolo brew. Is keeping it simple the right way to go, or will Sam's Brown Ale be lost in a sea of better AF ales?
Pouring from the lovely presented bottle, we get a very dark brown liquid which produces a thick beige head. This sticks around and gives some nice lacing as we drink. On the nose we get treacle-laced malt with a hint of dark stone fruits, plum and perhaps even prune.
On tasting there is an initial malty sweetness, transitioning into fruity plum-laden caramel bitterness as the flavour develops. There's a fair amount of fizz, but the body seems fine, maybe veering on thin. The bitterness creeps up as we finish, leaving a not unpleasant dry charred taste.
A lovely alcohol-free dark ale without any bells and whistles, the decades-old brewing skills of Samuel Smith's Brewery are certainly on show here. Tastes like a proper ale of old, without the unfermented worty taste that can sometimes be apparent with this style of non-alcoholic beer. Cheers Sam!
Buy Sam's Brown Ale
You can buy Sam's Brown Ale the occasional off-license, and online from the following drinks retailers:
Nutritional Information (per 100ml, taken from the side of the bottle)
ABV
0.5%
Energy
21 kcal
Fat
0g
Carbohydrates
4.3g
Sugar
2.4g
Protein
0.2g
Ingredients
Water, Malted Barley, Hops, Yeast
Additional Information
Country of Production
United Kingdom
Brewer
Samuel Smith's Brewery – https://www.samuelsmithsbrewery.co.uk/
Gluten Free?
No
Vegan Friendly?
Yes, registered with The Vegan Society
Sam's Alcohol-Free Brown Ale Review
Summary
A great traditional style dark ale, sans the alcohol, from these traditional Yorkshire brewers.