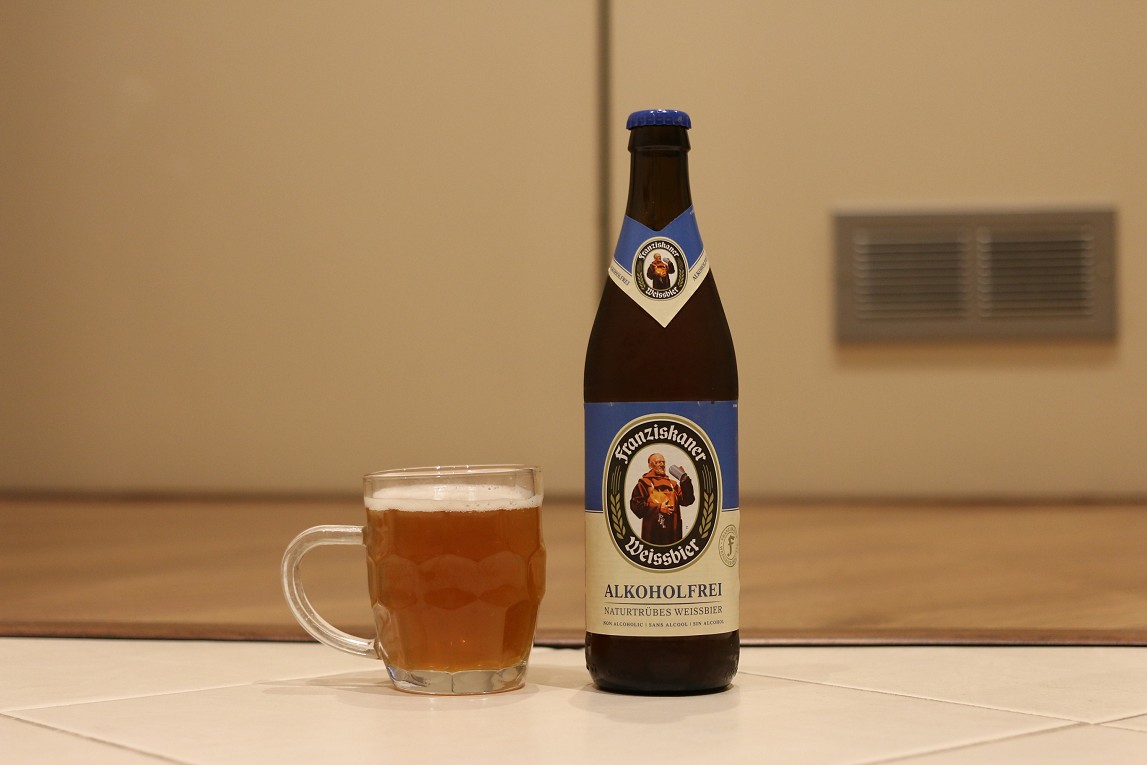 by BeerDrinker
The brewery now known as Spaten-Franziskaner-Bräu GmbH can trace it's history far back to 1397, and is still located where it all began in Munich, Bavaria. Over the centuries, the brewery both continued to grow, and changed hands numerous times. Nowadays, like so many other brewers, it's owned by the beverage giants Anheuser-Busch InBev. Originally a Franciscan brewery, the company uses the images of traditional monks to help market their brews. The image on Franziskaner Weissbier Alkoholfrei's label originates from 1935 and was designed by fellow Munich resident Ludwig Hohlwein.
In 2015 the brewery launched it's alcohol-free offerings, and won a number of categories in the World Beer awards of that year; Franziskaner Weissbier Alkoholfrei won Gold in the 'Alcohol-Free Wheat Beer' German category. Like the similar Erdinger Alkoholfrei, this weissbier is being marketed to the health-conscious, but not to the extreme of it being a post-sports isotonic drink. Nevertheless it is a brand still highly regarded amongst wheat beer drinkers, so can their non-alcoholic version be held up to the same lofty standards?
Pouring from the bottle we get a cloudy amber liquid, and a decent tall fluffy head makes an appearance. This does recede, but we do retain a smaller head for most of the session. On the nose we get wheat aromas mixing with dry straw, and of course being a weissbier there is also a whiff of banana. The amyl acetate is certainly here!
Banana and wheat flavours are also present when we sip, both relatively milder than a full strength wheat beer. There is also a touch of caramel sweetness. The mouthfeel is actually quite creamy, though fades to watery by the end, with a finish of slight bitterness and floral.
Certainly a tasty and refreshing wheat beer, with the aromas and tastes you'd expect from a company with centuries of brewing experience. The slight wateryness means that I still prefer Erdinger Alkoholfrei for my weissbier experience, but they're certainly of similar standards. Prost!
Buy Franziskaner Weissbier Alkoholfrei
I've seen Franziskaner Weissbier Alkoholfrei available at some supermarkets, and you can buy online from the following shops:
Nutritional Information (per 100ml, taken from the side of the bottle)
ABV
0.5%
Energy
21 kcal
Fat
0.1g
Carbohydrates
4.4g
Sugar
1.84g
Protein
0.55g
Ingredients
Water, Wheat Malt, Barley Malt, Yeast, Hop Extract
Additional Information
Country of Production
Germany
Brewer
Anheuser-Busch InBev – https://franziskaner-weissbier.de/
Gluten Free?
No
Vegan Friendly?
No
Franziskaner Weissbier Alkoholfrei Alcohol Free Wheat Beer Review
Summary
Has all the tastes of a good weissbier, just a slightly watery finish lets it down. A great thirst quencher!