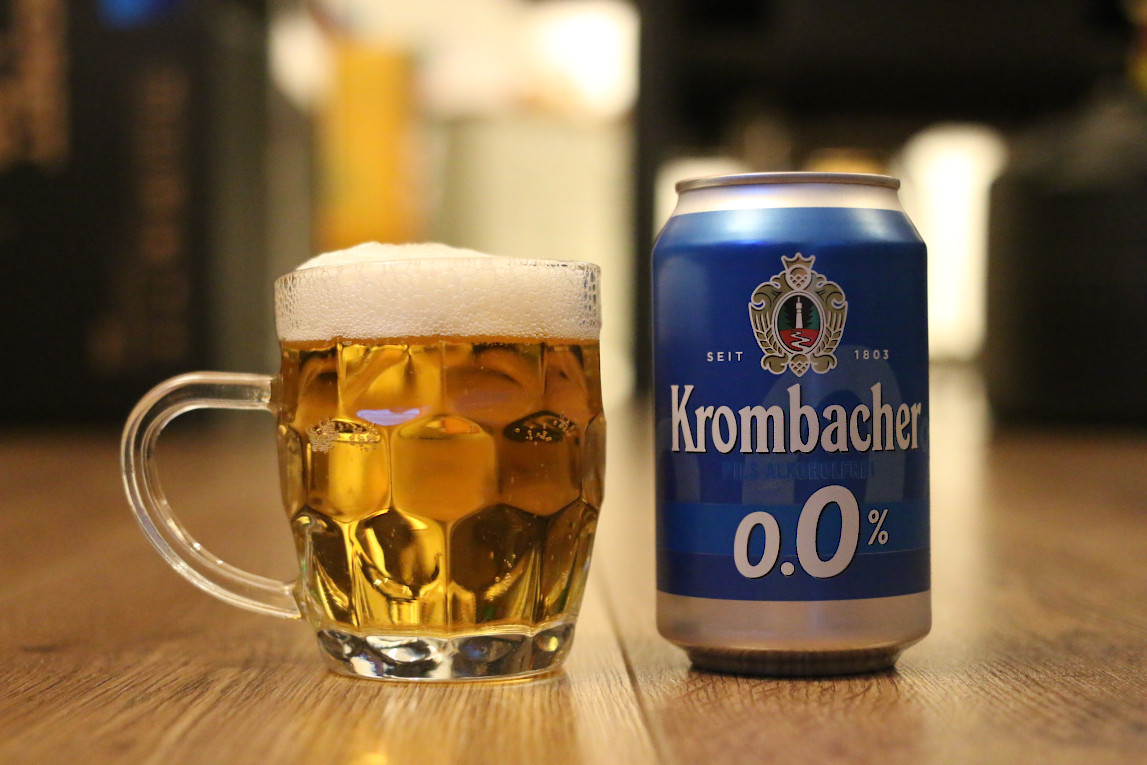 by BeerDrinker
Krombacher Brauerei is a German brewery with over 200 years of brewing experience under their lederhosen. It was founded by Johannes Haas in 1803 in the Krombach suburb of Kreuztal. It was there that his father ran an Inn, and due to local bylaws in order to serve beer at their establishment the Haas family had to run their own brewing house and malt kiln on-site. Business grew over time and so did demand for their brews, produced using local soft water from rock springs. After a few changes of ownership, the business was bought by Bernhard Schadeberg in 1922, and it is his grandson currently holding the reins at the company, which is still privately owned.
Krombacher have produced their pilsner lager since the early 1900s and now it tops the sales charts in it's native Germany year after year. Consistently the highest selling pilsner in the country, it certainly makes sense for them to produce an 'alkoholfrei' version to tap into the ever growing nolo marketplace. German pilsner lagers tend to keep to a similar recipe; soft water, pale malts, Saaz and Hallertau hops. Therefore I expect Krombacher Pils 0.0% to not sway from the trail blazed by the many brewers that came before it, but stranger things have happened in the alcohol-free world. Do we have a tried-and-tested pilsner-style lager taste here?
Pouring from the can we get a dark golden liquid with good clarity and a fair amount of visible carbonation. An off-white head fluffs up and recedes into a few islands of foam as we sip. On the nose we get cereal malts and some sweetness, with a very slight memory of hop way off in the background.
On tasting we also get a cereal malt sweetness, but the hops finally show their face and provide some welcome but mild bitterness. The mouthfeel is great, with good body and steady carbonation. We end the drink with a long slightly bitter finish.
A very drinkable alcohol-free pilsner lager here, but nothing in particular to make it stand out from other similar beers. I could happily sink a few of these in an evening, but it's not one I would search out for especially.
Buy Krombacher Pils 0.0%
You can buy Krombacher Pils 0.0% from various off-licenses and specialist shops, or online from the following drinks retailers:
Nutritional Information (per 100ml, taken from the side of the can)
ABV
0.0%
Energy
27 kcal
Fat
0g
Carbohydrates
6.4g
Sugar
3.1g
Protein
0g
Ingredients
Water, Barley Malt, Carbon Dioxide Produced by Fermentation, Hops, Hop Extract
Additional Information
Country of Production
Germany
Brewer
Krombacher – https://www.krombacher.com/en
Gluten Free?
No
Vegan Friendly?
No
Krombacher Alcohol-Free Pils Review
Summary
A good-flavoured pilsner lager, but nothing in particular to make it stand above the rest.